Long Island Smoke Damage/ Soot Damage Restoration and Clean Up Service
Smoke and soot are invariably caused by fires. However, furnace puffbacks can also result in soot accumulation. Soot cleaning is important because soot is persistent and pervasive, and without prompt action can damage materials and even the structural integrity of a property.
It is important to remedy soot damage to prevent staining and further issues that are difficult to resolve without proper equipment and expertise. Therefore, you should hire a professional fire restoration company to handle smoke/soot damage clean up.
When Quality is What You Want, Put your Trust in Us
Cleaning soot from fireplace
Soot damage cleanup from a fireplace becomes essential if you begin to notice discoloration of the bricks or stone masonry of the fireplace. Cleaning off the stains serves more than just an aesthetic purpose; it adds to the life of the fireplace and to the enjoyable experience of using it.
Ridding a fireplace of soot smoke damage is easy with the right gear, equipment, and cleaning materials. However, this is a job best left to the experts. 911 Flood of Long Island does not recommend cleaning soot from the fireplace and chimney as a DIY job. Soot can irritate the skin and may get into the eyes. We have the skill to clear fireplaces of soot and restore them to their previous pristine appearance.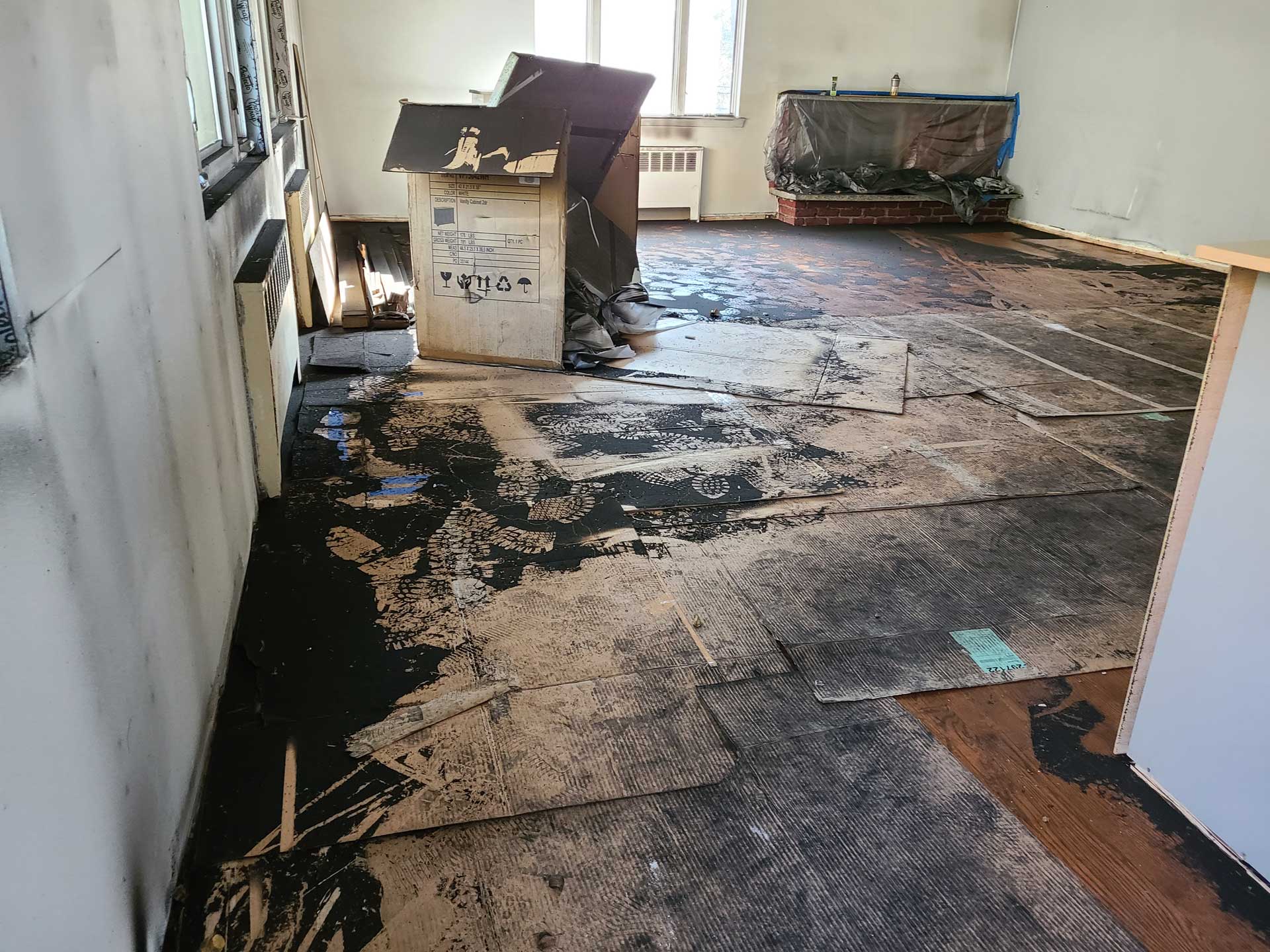 Soot damage restoration 
911 Flood of Long Island has restored properties that have experienced sudden and big or small and accumulative soot damage. We use safe and effective cleaning products and the right techniques. We clean walls, ceilings, carpets, floors, contents, remove odor, air scrubs, debris removal, upholstery cleaning, etc.  Soot damage restoration may be followed by carpet and flooring installation, painting, and reconstruction.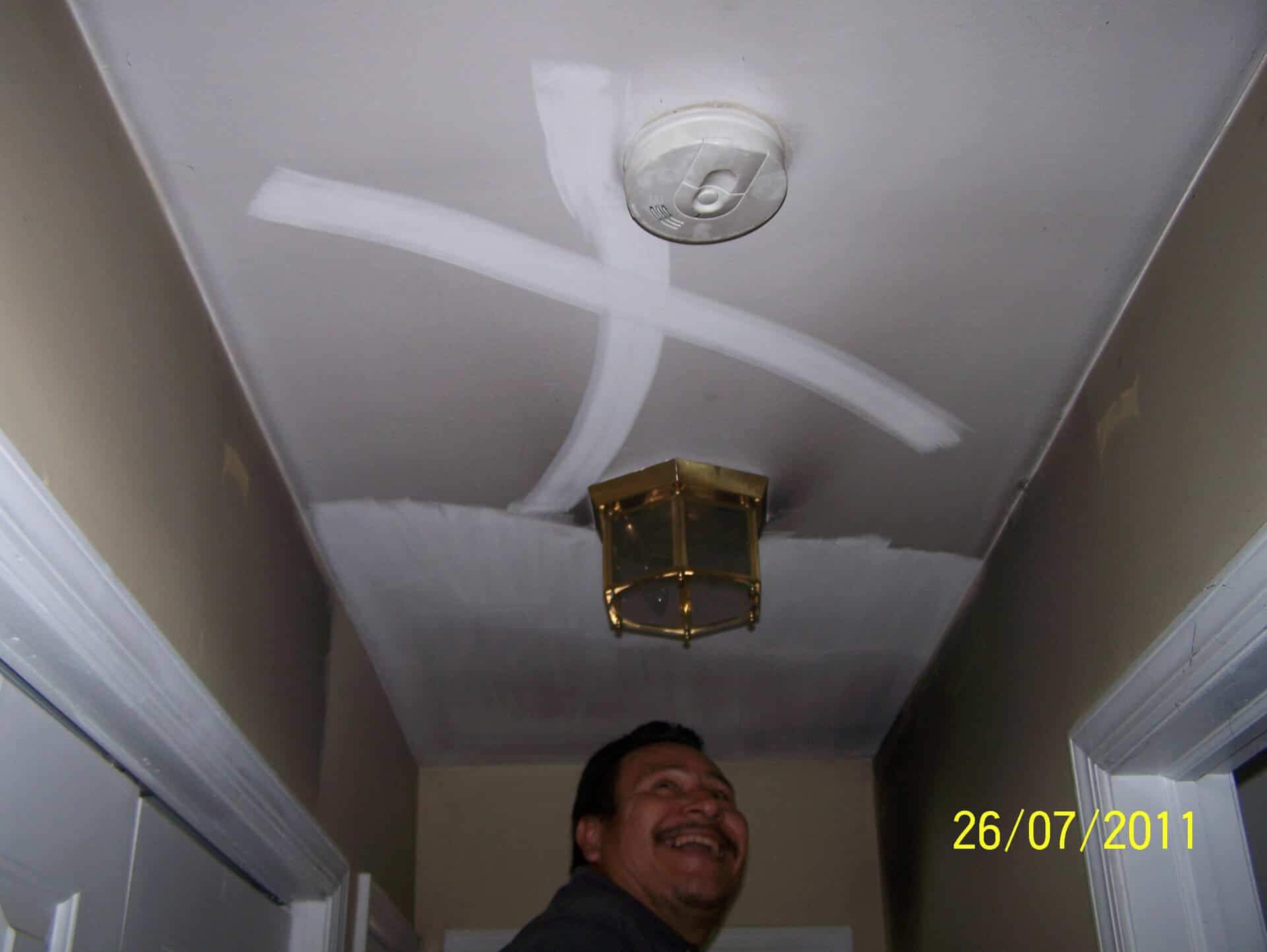 Oil furnace soot cleaning
Soot damage cleanup in the aftermath of a furnace puffback must be carried out promptly. The furnace, too, must be repaired to prevent a repeat. 911 Flood of Long Island can do both in a timely and professional manner.
Our technicians assess the damage to the furnace and the property, including the upholstery, furniture, and even clothes inside closets. We do the necessary due diligence to facilitate soot damage insurance claims for our clients. We clean soot from walls and other spots wearing protective clothing and using appropriate cleaners as befitting the surface or material to be cleaned.
The procedure is equally thorough for cleaning gas furnace black soot or soot from oil furnace vents.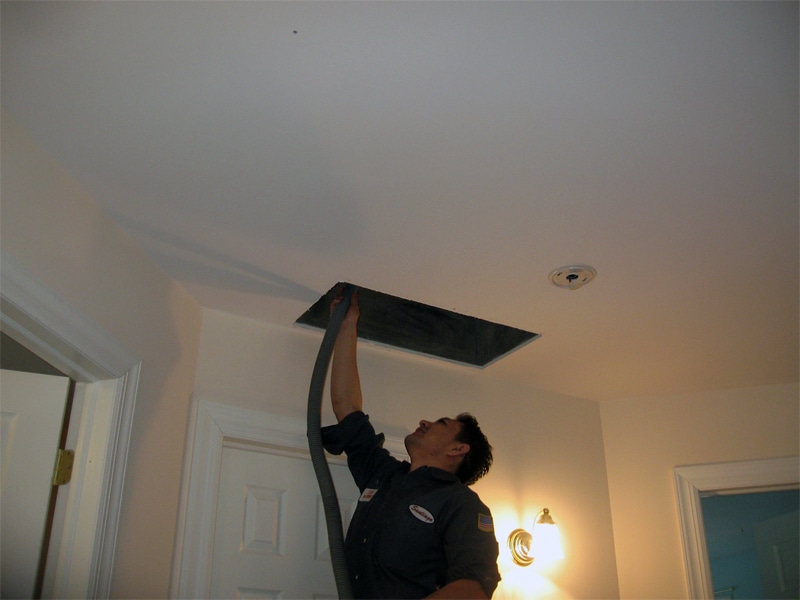 The following methods are recommendations
and guidelines for fire and smoke damage
Wear gloves such as household dish washing gloves, long sleeved shirts and pants to avoid skin contact. If you get any smoke ash on your skin, wash it off as soon as possible.
Wear personal protective gear such as a dust mask to avoid breathing in ash and other airborne particles from fire damage.
Ventilate the area (open windows, etc.) to remove soot and odor.
Remove fire damaged burned debris to reduce odor source.
Install dehumidifiers to control moisture in the air (relative humidity) to reduce water damage, especially where water was used to extinguish the fire.
Wipe all metallic finishes with cooking oil to prevent rust and staining.
Clean plastic or surfaces such as PVC windows and white painted surfaces using a mild alkali detergent to remove possible acidic soot which may activate with moisture in the air (humidity) and cause permanent staining.
Undertake triage assessments to clean or remove all contents as quickly as possible and in order of value.
Deodorants should not be used as they mask smoke odor which is a significant indicator of health concerns.
Where smoke damage occurs, surface staining cannot be removed and you may consider the use of specialist paint to obliterate the smoke damaged stain. Typically these paints are lacquers or oil based.
Hiring 911 Flood Of Long Island to Clean Up
and Remedy Soot Damage
There are several reasons to hire a local Long Island professional restoration company following a house fire. Smoke damage restoration (remediation) is a component of the fire restoration that all homeowners must do after a fire. Hiring a local Long Island professional fire restoration company to complete this task for you offers many benefits.
It allows the restoration contractors to address several issues simultaneously such as water damage, fire damage and smoke and soot damage. Professional restoration contractors also have the experience and training to remedy soot damage wherever it occurs in your home. Hiring a professional on Long Island is the easiest and most worry free solution to any soot/smoke problem.
Eliminating smoke damage from a fire is our expertise.
First Choice for Fire/Smoke/Soot Damage Cleanup on Long Island
We are a certified, licensed and insured business on Long Island.
Our smoke damage cleanup team efficiently removes visible traces of soot and odors.
We use high quality products that produce the best cleaning results.
We put your needs and safety first, conducting each inspection thoroughly and carefully.
The smoke damage restoration service offered is personalized to your situation.
On Long Island we have maintained an A+ rating with the Better Business Bureau.

Our technicians have the training and expertise to handle your restoration and cleaning needs.

A fast response is critical. We arrive at your home or place of business within 60 minutes.

Flag's team is committed and dedicated to providing and promoting the best practices in the restoration and cleaning industry. With this in mind, we are focused on continued education and have tailored our management to give our clients the best possible service.

Insurance Claim
Processor
If the loss is covered by your homeowners insurance policy Flag will bill your insurance company directly and wait for payment from them.

Exceptional Craftsmanship
Our skill and knowledge is a result of many years of education and experience and it is because of that we are able to provide the service you need at the time you need it.

We have all of the structural drying equipment and hands on experience to handle any damage to your property, residential or commercial.
Trust Our Smoke Damage Cleanup Service
Whether we're there to provide you with an estimate, to inspect a property, to clean and restore, or to do a final walk-through of a work site you can put your trust in our services.
We only employ top-notch professionals to take care of our customers and it shows in the quality of work you're left with.
The soot removal process can seem like a tedious one but when soot can destroy your home by embedding itself into your possessions over time it's an important step to take following a devastating fire.
It takes an extra careful hand and deep restoration knowledge to return your beloved possessions to their original state.
YOU MAY QUALIFY FOR ASSISTANCE
SOOT DAMAGE CLEANUP DAMAGE CLAIMS ARE OFTEN REJECTED
BY INSURANCE COMPANIES IF NOT CORRECTLY DOCUMENTED.